Our resilience is built from the family-like support and culture that we have. We are a close-knit group at Pitchfork Partners and often huddle together to brainstorm our way to solutions. We respect each family member, are always fair to each other and believe in being truthful.
We highly value skills and we nurture constant learning – one way is through curiosity.
Write to us – if you want a great experience in strategic communication and wish to be a part of this dynamic team, that we otherwise call the – Pitchfork Family.
The team that plays together stays together! Outbounds, offsites, fun activities, skill-sharing sessions and celebrations keep up our spirits – all managed by various members of the team! Every initiative is fired up by efficient collaboration and passion.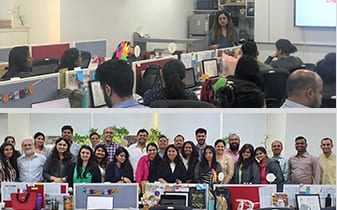 Last year we started with our training sessions, which enabled us to upgrade ourselves. We started 2020 with a session on Mind Mapping with one of India's leading trainers, Dharmendra Rai. We got some pro tips on thinking creatively!
In February we learned about how digital platforms can be used in communication strategies, a session conducted by Kcamya Agarwal of Moe's Art
In March, we were locked down but we managed to keep learning. Exciting assignments on content writing kept us motivated and inspired us throughout
We all need a few minutes of reflection every day. When we pause, everything in our multi-terabyte brain focuses on unique thoughts. At Pitchfork Partners, we tried to achieve this by taking up a word every week and writing something about it, bringing out the creative manifestations of simple, everyday language.
For instance, Rajvi Bhansali came up with a couplet for 'solitude':
Solitude is finding yourself amongst the chaos and in the darkness of the mind...
Solitude is a luxury we often don't consider as a kind...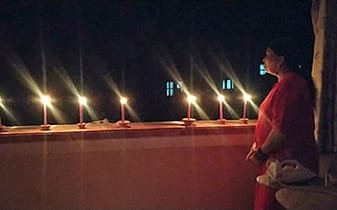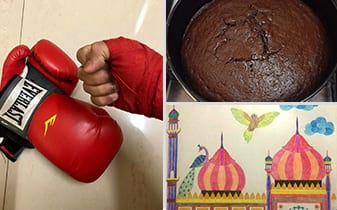 The Pitchfork family is utilising the lockdown to explore hobbies, interests and gain new skills through various learning projects.
Most of us picked up new interests or revisited old ones. Some of us turned into bakers and painters and some of us got created online groups for creative writing activities.
We're also taken the time to sign up for online courses in digital marketing, content writing and even philosophy!
Holi, the festival of colours, was celebrated enthusiastically by everyone.
The Pitchfork family got together and celebrated not only with colours but with fun and laughter, followed by dancing, delicious snacks and delightful 'virgin' thandai!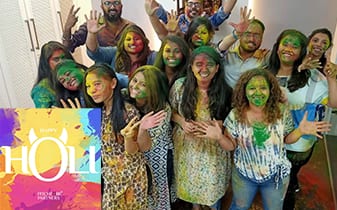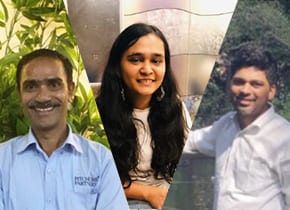 Inspired by Humans of New York, we launched 'Humans of Pitchfork' in the second half of 2019.
After all, each of us is a story. And we feel it needs to be told.
The stories of our team members have been fun, moving, emotional and touched a chord. This is what we're all about.
Henry Ford said: "Coming together is a beginning, keeping together is progress and working together is success."
We too believe in having a great time together.
Pitchfork's annual offsite was a three-day affair.
The team detoxed through leisure, fun and partying at Shillim resort in Lonavla.
Loads of exciting announcements and all the fun made everyone feel even closer.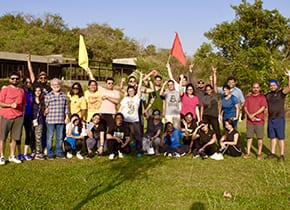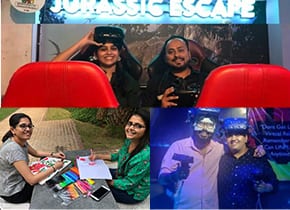 Buddy activities at Pitchfork create a stronger sense of camaraderie.
Doing things in squads of two is super fun – from going dancing, to playing virtual reality games to strolling through heritage precincts, it reveals aspects of the team that we normally don't notice.
What's better than having your peers push you to get healthier or perform better in group games? Interesting challenges are part of a year-long effort for us.
The 'Pitchfork Championship' spans several activities, from a two-month fitness challenge to Rangoli-making during Diwali.
The group with the most points at the end of the year is the winner.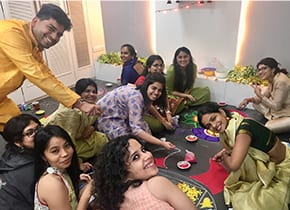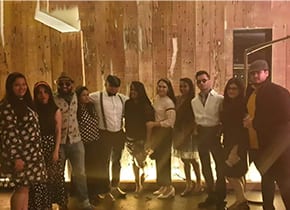 Be it celebrating anniversaries or festivals like Diwali or moving into a new office, we always find a reason to party.
Dancing to dhinchak Bollywood music, laughing till it hurts and creating blurry, funny memories is the way to go!
The year ended on an exciting note. It was Christmas and time for Secret Santa.
Picking a chit with your elf's name on it, figuring what gift would mean the most to them and, the best part, guessing who your Secret Santa was… it was a very merry Christmas